FRIENDS OF THE WIGWAM
by JOHN WILLIAM HUELSKAMP
Original Edits by C.H. Lundy, M.Edu, Harvard University
"A consistently compelling read from beginning to end, Friends of the Wigwam: A Civil War Story is a deftly written work of fiction that is quite accurately factual in background details … Very highly recommended for community library General Fiction collections and for the personal reading lists of Civil War enthusiasts."

James A. Cox, Editor-in-Chief
Midwest Book Review

"Friends of the Wigwam is a fascinating and thoroughly engrossing historical novel. Author John William Huelskamp has combined extraordinary research and vivid narrative to create a compelling story. For people looking for a successor to Michael Shaara's Pulitzer Prize winning novel, The Killer Angels, they'll find it in Friends of the Wigwam."

Dwight Jon Zimmerman
New York Times best-selling coauthor of Lincoln's Last Days

"Friends of the Wigwam is an entertaining and tender tale of the relentlessness of love against daunting odds... a marvelously researched historical novel about Union soldiers and sympathizers, both moving and educational... a scholarly triumph, deftly bringing alive the volatile atmosphere of a nation in peril.."

Kirkus Reviews
"The FRIENDS OF THE WIGWAM dialogue is expertly presented to tell this engaging story. The author displays a wealth of historical research ... the story is exceptionally well told, engaging, and highlights not only the tragedy of war but the human kindness and friendships that sustain families and acquaintances caught up in life's ordeals. This book is highly recommended for Civil War enthusiasts who wish to see the personal side of the war, the loss of innocence, and the heroic deeds that ordinary people achieve when motivated by patriotism, friendship and love."
Wayne L. Wolf, Phd Emeritus
CIVIL WAR NEWS Book Reviews
"Friends of the Wigwam" begins in the late 1850s with the story of a group of young teens from the Freeport, Illinois area who discover a wigwam on the banks of the Pecatonica River. This becomes their "special" hideaway where they bond and become fast friends as the unrest leading up to the Civil War swirls around them. In the early going the narrative of the book alternates between the idyllic life along the Pecatonica River and the national scene, where the reader is engaged with Republican Congressman Elihu Washburne, U.S. Grant, Abraham Lincoln, and others who will play an important political role leading up to the 1860 nomination of Lincoln at the newly-constructed Wigwam in Chicago.
Over the next few years the friends of the Wigwam are caught up with the events of the time. The four boys among them enlist in the Ninety-third Illinois Volunteer Infantry, while the two girls remain in Freeport.
Although a historical novel, John Huelskamp's work is firmly based in actual events and the lives of historical people. "Friends of the Wigwam" combines meticulous research with vivid and imaginative description. Over a period of more than half a century I've read many works on the Civil War, and none has made the conflict come alive more than this work by Huelskamp."
Doug Erlandson
TOP 100 Reviewer AMAZON
"Using previously unpublished letters and diaries, the author re-creates the feel, the sense, and the sound of the 1860s. History repeats itself in the pages of Friends of the Wigwam in the best possible way."
Robert I. Girardi
Civil War author and historian
"It took a stranger passing through town to pull together one of the most important historical dramas of the Civil War. Huelskamp's research and story has set the record straight for future generations."
Harriet Gustason
Freeport Journal-Standard
"Friends of the Wigwam captures the great struggles of the Civil War, its prelude, conclusion and aftermath. This book is a must read for historians of this period in American History."
Joseph S. Maresca, Phd.
Amazon HALL OF FAME Reviewer
"I found this book to be incredibly moving and brilliantly written. I was touched right from the beginning by the intensity of the descriptions and the beauty of the author's writing. Even minor details are fascinating when you read this book. You feel what was felt by the people during that time. Don't miss this one if you love history, historical novels, or stories which are noble and magnificently told." 
Jean Baldridge Yates
Vine Voice
"Although billed as a historical novel, which it is, John William Huelskamp's Friends of the Wigwam is based almost entirely on events (including several Civil War battles) that actually occurred and on the lives of historical people. The book combines meticulous research of more than twenty years with vivid and imaginative description. All in all, this is a book I highly recommend."
Doug Erlandson
Amazon TOP 50 Reviewer
"John William Huelskamp is not only an author, he is a Civil War historian. It is only natural then that Friends of the Wigwam be a passionate story of the Civil War with all of its permutations . . . Very strong writing in a must-read novel that could not be published at a better time in our history. Lessons to be learned and not forgotten."
Grady Harp
Amazon Hall of Fame, TOP 100 Reviewer
"Friends of the Wigwam is an outstanding story that preserves and promotes a more vivid understanding of Civil War history. Personally, I have read mostly non-fiction narratives and biographies. Stellar Civil War historical novels are very rare. Friends of the Wigwam is one that is refreshing and exciting. If you are a fan of Illinois or Civil War history, you'll love this book!"
Krista August
Giants in the Park, CWA Nonfiction Book of the Year Award (2011)
"John William Huelskamp has an amazing ability for using descriptive words and phrases that form distinctive images and inspire the reader to use all five senses; to capture a scene that matches the action, to feel the muddy slime on the riverbed, or taste the "grass stem" between the lips. Reading Huelskamp's Friends of the Wigwam has given me a new appreciation for the insight and research necessary to create the right balance of historical accuracy, realism, and creative license. Friends of the Wigwam: A Civil War Story is an important dramatic reminder of sacrifice, dedication, and courage of the heroes of American history."
Richard R. Blake
Senior Reviewer, Midwest Book Review
WGN-TV Interviews John William Huelskamp
You can view interviews with author and civil war historian John William Huelskamp below.
Honoring a Civil War Veteran
Colonel Elmer Ellsworth
Albert DJ Cashier
aka Jennie Hodgers
93rd Illinois Civil War Regiment
(Nominated for Emmy Award)
Author's Voice
A House Divided
Introduction
Friends of the Wigwam is a historical novel about key soldiers and citizens who lived during the dramatic years of the American Civil War. Only true-to-life characters have been selected for this novel. Some of these characters will be very familiar to you; others not so. To be sure, though, all are important to the story. They are "actors" who between the years 1857 and 1865 collectively staged a very tragic time in our nation's history. All lived within one hundred miles of my home in Northern Illinois.
The landscape of the events and battles, I trust, will come alive for you as the characters evolve through the storytelling. I have selected actual firsthand documents and correspondences in the story to give you a closer "feel" for the times. Many of these primary source documents are published here for the first time. These entries are italicized, numbered, and noted at the end of the manuscript. It is my hope that these literary treasures will continue to be chronicled by Civil War scholars and enthusiasts for present and future generations.
As most historians agree, an accurate chronology of real events best serves the historical timeline. To this end you will find chapter headers true to the date and place that the historical event occurred and, where noted, the actual time of day.
To conclude, even though the people and events are factual and real, the dialogue between the characters, as in all historical novels, comes from my pen, and, therefore, the interpretation of each character in Friends of the Wigwam is my own.
John William Huelskamp
Deer Park, Illinois
Memorial Day 2016
Cast of Characters
Will (William P. Erwin)
Will was buried in a mass grave on the slopes of Missionary Ridge on November 25, 1863. On November 27, 1989, one hundred twenty six years later, retired Marine Colonel Ray Erwin, great-grand nephew of William P. Erwin, placed a corrected headstone on his fallen ancestor's grave thus officially "promoting" Will to Sergeant, a promotion Will received just weeks before his death. A multitude of reporters from two newspapers and a local television station attended the re-dedication ceremony.
Aaron Dunbar

After the war Aaron taught school during the winter months and engaged in farming during the summer. He married Emily Thompson three years after the war and had three daughters. His journals, which were written during the war, were used to complete the History of the Ninety-Third Regiment, Illinois Volunteer Infantry published October 5, 1898.
T.J. Lockwood, a.k.a. Thomas J.
T.J. returned to his hometown and despite his blindness, he prospered. Aaron Dunbar's History of the Ninety-Third Regiment records the following: "He is one of the leading business men of Buda, Ill, and does many marvelous things, in the way of business, for a blind person."
Trick, a.k.a Patrick Kane
Trick survived his wound and continued on the long trek south with the 93rd Illinois Volunteers, and participated in Sherman's March to the Sea. He returned to Buda after mustering out with the rest of his Regiment in June, 1865. Margaret Schmitt, Trick's grand-daughter and past curator of the Sheffield Museum in Illinois, remembered well how Patrick held his grandchildren on his lap and told the story of how his boyhood friend, T.J., carried him to safety during the Battle of Champion Hill.
U.S. Grant

After the Battle of Missionary Ridge, Grant was promoted to General in Chief of the entire Union Army. By executing aggressive strategy and tactics that he used effectively in the West, he brought General Robert E. Lee to terms at Appomattox Court House 0n April 9, 1865, thus ending the Civil War. In 1868 he was elected to the Presidency and finished two terms in the White House. He completed the Personal Memoirs of U.S. Grant a few days before his death of throat cancer in 1885. His Memoirs are considered by scholars to be one of the greatest autobiographies in the English language
Ely Parker
Ely Parker continued as U.S. Grant's military secretary until the end of the Civil War. He was promoted to Lt. Colonel and later became a Brevet Brigadier General of Volunteers. At Appomattox he transcribed in fair hand the official surrender papers for Robert E. Lee. Later in life he became the Commissioner of Indian Affairs. He died in 1895 almost ten years after U.S. Grant, his good friend from Galena. His funeral in Buffalo, New York was attended by dignitaries from around the Country including Fred Grant, son of General Grant, and leading men and women of the Iroquois tribes
Congressman Elihu Washburne

After the Civil War, Washburne's most notable assignments were U.S. Minister to France and President of the Chicago Historical Society. In his retirement he wrote Recollections of a Minister to France, 1869-1877. He will always be remembered for his lobbying effort with Lincoln and Congress for the promotion of his U.S. Grant, his Galena neighbor, to the rank of Brigadier General.
Abraham Lincoln

America's greatest President since George Washington, Lincoln kept the Union together for four long years, but was assassinated by John Wilkes Booth just days after Lee's Surrender at Appomattox. Illinois' greatest citizen, Lincoln was a man of gentle spirit who rose from the backwoods of Salem to Springfield, Illinois and then to Washington, D.C. His interesting life, history, and contributions to America have filled thousands of volumes since his untimely death on April 14, 1865 at Ford's Theater. Without question, Lincoln, as subject matter, will continue to fill thousands more volumes for many years to come.
Colonel John M. Loomis

After Missionary Ridge, perhaps due to the disastrous attack and devastating Union losses at the Tunnel Hill fight, Loomis' career in the military was ruined. Letters written to Lincoln and Grant on his behalf requesting promotion to Brigadier General were ignored causing him to resign on April 14, 1864 exactly one year before Appomattox. In a letter to General Sherman on the same day he writes, "The pride and self respect which I cherish is so hurt by the continual promotion over me of my juniors."
Colonel Holden Putnam
Fire Marshall and later Colonel, Putnam lies buried in City Cemetery, Freeport, Illinois. The epitaph on his Memorial reads: "Thy Name be thy Epitaph"
Elmer Ellsworth

Elmer was the North's first casualty of the Civil War and he became an instant Martyr for the Union cause. The devastating news of his death saddened thousands of admirers across America. The Lincoln family openly mourned him as his body lay in state at the White House.
General John E. Smith

After Missionary Ridge, John E. marched with Sherman to the sea. During this time he was promoted to Major General and eventually commanded the District of West Tennessee. After being mustered out of volunteer service in April, 1866, he accepted the Colonelcy of the 27th Infantry - Regular Army serving during the Indian Wars until retiring in May of 1881. He died in Galena, Illinois on January 29, 1897.
Alfred T. Smith

Alfred, like his father, John E. Smith, had an illustrious military career. After serving in the US Army 4th and 8th Infantry in Eastern campaigns of the Civil War, he became Colonel of the last Civil War regiment raised in his home State, 156th Illinois Volunteer Infantry. Later, he followed his father's footsteps and served at various western posts during the Indian War period dying shortly after retirement from military service at the age of sixty-seven.
Albert D. J. Cashier

Private Cashier continued through the War unsuspected as being a woman. After Vicksburg, she fought with the 95th Illinois during the Red River Campaign, Brice's Cross Roads, and at the Battles of Franklin and Nashville. After the War, she returned to a hero's welcome at Belvediere, Illinois and then worked as a handyman and farmhand in Saunemin. She never married and continued to disguise her gender until 1911 when her leg was fractured in an automobile accident, and when during medical inspection, the attending physician was shocked to notice her true gender. Her secret was kept for awhile but was exposed two years later causing a sensation in Northern Illinois and across America. She lived another two years in the limelight and then passed away on October 11, 1915. She was buried with full military honors at the Saunemin Cemetery leaving her legacy as the only documented women in the Civil War to fulfill an Army enlistment.
Willy Lincoln
Willy died in the White House in 1862.
Tad Lincoln with Father

Tad died nine years after Willy.
Mary Todd Lincoln

Four years after Tad's death, Mary Todd was committed to an insane asylum by her oldest and only son Robert. She was released several months later and traveled abroad for seven years. She died in Springfield, where her fondest memories were, in July, 1882.
Captain Luther Cowan

After his courageous charge at Vicksburg, Luther was buried in his home town of Warren, Illinois. The local newspaper, Warren Independent, wrote on May 31, 1864, "The funeral of Maj. Cowan took place yesterday and was largely attended. Notwithstanding the inclemency of the weather, the church was full and overflowing."
General John A. McClernand

Removed from command after issuing a bombastic congratulatory order to his men without sending it through Grant's Headquarters. He was reinstated to command of the XVIII Corps long enough to damage his reputation before retiring for health reasons.
Elliott N. Bush Captain Co. G 95th Illinois Vols

Killed June 10, 1864 at Guntown, Mississippi
Lieutenant Colonel Maltby 45th Illinois Leadmine Regiment

Promoted to Brigadier, he became the military governor of Vicksburg in September,1867. He remained in that position until his death the following March.
Captain Charles F. Taggart

Captain Taggart, good friend of Colonel Putnam, continued on Sherman's March to the Sea. He resigned in January, 1865 due to health. After returning to Freeport, he became a postal clerk and lived fifteen more years. His obituary in the Freeport Bulletin read, "Capt. Taggart enjoyed the fruits of a well spent life surrounded by the blessings vouchsafed to him in a happy home and children of whom any father might be proud."
Fred Grant with Family (Standing in Middle of Photo

After witnessing major Civil War military campaigns with his Father first-hand, Fred Grant at the close of the War was appointed to West Point. After graduating he was aide-de-camp to William Tecumseh Sherman in Europe. Later, as a newly promoted Lieutenant Colonel, he joined George Armstrong Custer during the Black Hills expedition.
He resigned from the Army in 1881 to assist his Father in preparing his famous Memoirs. Throughout his career he held lofty political, civic, and military positions as Minister to Austria, New York City Commissioner of Police, Brigadier General of Volunteers during the Spanish American War, then Major General of the Regular Army. Fred, like his Father, succumbed to cancer. He died on April 12, 1912 and is buried in West Point Cemetery.
Charlie (Charles Flint Putnam)

A few years after his father's death at Missionary Ridge, Charlie moved with his sister Jenny and his mother, Leonora, to Chicago. Following in his Father's footsteps, he chose a military career and accepted an appointment to the U.S. Naval Academy at the tender age of 14. After graduation from the Academy in 1873, at his request, he served in the Asiatic Squadron in the Far East and then later conducted rescue missions for stranded expeditions to the North Pole. Just one month after his 27th birthday, he followed his Father's fate and perished in the line of duty. A Monument today stands tribute to Charlie on the Naval Academy grounds, which reads:
To the Memory of
CHARLES FLINT PUTNAM
Master, U.S.N
Who volunteered for duty on board the U.S. Steamer Rodgers, a vessel dispatched to the Arctic Ocean for the relief of the Jeannette Exploring Expedition.
After having gallantly succored his shipwrecked companions while returning to his station at Cape Serdze-Kamen, Siberia, he drifted out to sea and perished alone on the ice in St. Lawrence Bay.
Behring Straits, about Jan. 11, 1882. This tablet is erected by his friends and brother officers in loving remembrance and as a memorial of his heroic sacrifice.
Civil War Letters
Friends of the Wigwam, A Civil War Story includes copies of Original Civil War Letters and Journals written by Union Soldiers as they fought in many important Battles including Shiloh, Vicksburg, and Missionary Ridge.
Here are a few selected pieces of historical significance...
TRANSCRIPTION OF GENERAL JOHN E. SMITH LETTER… TO HIS TROOPS DELIVERED MARCH 10, 1863 BEFORE THE VICKSBURG CAMPAIGN.
Courtesy of Kirby Smith, Great Great Grandson of General John E. Smith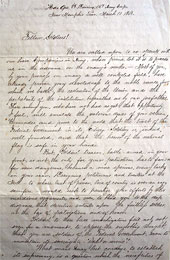 We are called upon to co-operate with our brave Companions in Arms, whose proud lot it is to precede us … Most of you, by your prowess on many a well contested field, have already proven your devotedness to the noble cause for which we battle: the restoration of the Union and the perpetuity of the institutions bequeathed us by our forefathers. Those among you, who have not had as yet, that opportunity, I feel, will emulate the valorous deeds of your veteran Comrades and prove to the world that the trust of the Federal Government in its Citizen-Soldiery is, indeed, well founded, and the honor of the national flag is safe in your hands…
The South, despite the spirit of our century, despite history which has ever branded with failure the attempt to harmonize together two antagonistic principles: freedom and servitude, has dared to declare it her purpose to rear up a Confederacy whose cornerstone shall be slavery…
Hence it became logically necessary to issue a counter Proclamation, emancipating slavery: for, the corner-stone once shattered and broken, the whole fabric must topple to the ground…"
"Forward! Then, fellow soldiers! And… reassured of the justice and sacredness of our cause let not our efforts cease until the Union be restored in its full integrity and our glorious banner will wave triumphant over a land forever reclaimed from treason, and restored to its former glory, peace, and prosperity.
Jno E. Smith
Brig Genl
Original Letter from General John E. Smith to his wife, Aimee from the Sally and Kirby Smith Collection
Head Qrs 1st Brig 3d Div 17 A.C.
Camp in the Field Big Black River
May 5th/63
My Dear Aimee
I suppose before you get this you will have heard that we have had another Battle at Thompsons Hill near Port Gibson. I thank God I have escaped injury although it was well contested. Yet my Brigade lost very little, about 6 killed & 30 wounded. None in the 45th regiment. I am very anxious to hear from you but I am afraid it will be some time before I get a letter. We shall have a hot time of it now for about a month as we are moving to the rear of Vicksurgh (sic). The weather is very hot and my clothes I have not had an opportunity to get washed since I left you. I wish now I had left all my baggage at home. We have passed through a lovely country since leaving Milliken's Bend, flowers of all kinds and hedges for miles composed of Roses. It seems to me I have never seen the Queen of flowers in greater perfection. Genl Thomas, Adjt Genl for the US is here organizing Negro Regiments to be officered by whites… The army is in good health and spirits. As for myself I am well and my knee nearly so altho (sic) being in the Saddle constantly makes it very painful at times. I may say without vanity that I was complimented on the Field with the manner I handled my Brigade… Trusting that you are all in good health. May God have you in his Keeping now & ever.
Your Husband,
Jno E S
Original Letter from Congressman Elihu Washburne to Colonel John E. Smith
from the Collection of Kirby Smith, Great-Grandson of John E. Smith
To/John E. Smith,
Col. Commanding, Washburne Lead Mine Regiment
I have the honor to acknowledge the receipt of the proceedings of a meeting of the officers of your regiment … every promise made by persons connected with the Regiment in regard to arms has been fully redeemed … I am proud to know that all go into the hands of brave and true soldiers, who will vindicate the honor of the National Flag and give additional luster to the glory of our own beloved State.
To have my name connected with such a Regiment is a distinguished, though I fear, an undeserved compliment. For it, I desire to tender to the officers and soldiers, one and all, my sincere and profound acknowledgement and to assure them of the deep and heartfelt interest I shall ever take in all that concerns them. Whether amid the clash of arms, or in the beautiful walks of life, under all circumstances and at all times, they can command my best services and my most earnest efforts in their behalf.
I have the honor, to be, very
Truly, your friend & servant,
E.B. Washburne
Acknowledgements
Friends of the Wigwam is the culmination of over thirty years of research and writing. I am indebted to the many people who offered encouragement and advice along the way, including the many professionals and archivists from Northern Illinois museums and historical societies who shared primary source documents and also their love of Civil War history.
Special thanks to Kirby Smith of Barrington, Illinois, who provided me with the core letters and war documents from his ancestor General John E. Smith that are "centerpieces" to this work, and to the late Professor John Y. Simon, noted Ulysses S. Grant editor and scholar, who suggested that I focus my research for the story to include other important Civil War-period personages who lived in the "Union political power corridor" extending from Galena to Chicago.
Similarly, I am deeply indebted to author Peter Cozzens of Alexandria, Virginia, for his encouragement and editorship of my first publication in Civil War Regiments: A Journal of the American Civil War, which provided a firm foundation for the larger story found in Friends of the Wigwam. Also, my thanks to author Wiley Sword, who many years ago encouraged me to research and document Western Civil War engagements during a very enlightening visit to his home.
The idea of writing a creative historical novel on Northern Illinois history was first suggested by Civil War author Rob Girardi of Chicago and artist Keith Rocco now of Edinburg, Virginia. Both of these individuals have had a very positive impact in bringing Illinois history to the forefront of America. I will always be grateful for their early suggestions and encouragement along the way.
Special thanks to WGN News anchor and historian Larry Potash of Lake Forest, Illinois, for his passion, insight, and creativity in bringing the national spotlight to three important characters in my work. His scholarly minidocumentaries of Colonel Putnam, Jennie Hodgers, and Elmer Ellsworth have created national interest in Illinois Civil War history, and-for this the people of Illinois will always be grateful. I am also indebted to Dwight Jon Zimmerman, New York Times best-selling author of many military and historical works, for his recommendation to include runaway slaves and the Illinois underground railroad in the manuscript.
On a personal note, I would like to thank my wonderful wife, Pat, for always keeping my dreams alive and for the countless hours she has spent reading and enhancing multiple drafts of Friends of the Wigwam. A fatherly thanks also to Christy, Tim, and Jeff for their encouragement and suggestions that also contributed to the form and content of the work. For their love, kindness, and understanding during my many years researching, reflecting, and writing, I will always be grateful.
To my parents, siblings, and extended family, I thank all of you for listening with great interest to my storytelling, which began at a very young age, and for your positive encouragement during those memorable times together. You have truly influenced my life's journey as a writer…and the core development of the story contained within these pages.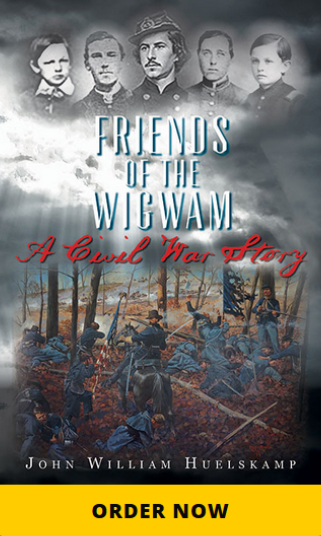 Friends of the Wigwam is available in Paperback and Kindle at Amazon.com.
Educational Facilities and Book Retailers wishing to purchase bulk quantities for students and general readers at a 50% discount off Amazon.com published pricing, please contact patwoodward@friendsofthewigwam.com.
For Book Signing & Fundraising events, please email Mr. Huelskamp directly at jwhuelskamp@friendsofthewigwam.com or 847-304-4867.
For general questions, please contact info@friendsofthewigwam.com or:
Barrington Group Publications
Attn: Pat Woodward, Director of Customer Service
106 Barrington Commons, Suite 130
Barrington, IL 60011
Best Wishes,
The Staff at Barrington Group Publications